A few weeks ago, Alanna from A Veggie Venture sent out a request for favorite cookbooks. That was a tough one! What she was really looking for was beginner cookbooks- what inspires you in the kitchen, what would you recommend to a new cook. That's a hard question to ask a foodie who loves cookbooks. While my collection may rival some, I have just over 70 cookbooks- there are very few that I don't use at some point. I love the basic all purpose cookbooks- like Joy of Cooking and Better Homes and Gardens, with a little bit of how to cook everything. I also like the specialty books that approach a particular topic. An example here would be baking- I adore my Martha Stewart's Baking Handbook, as well as the King Arthur Flour Baking Companion. I use them both at different times. I also enjoy the cookbooks that embrace a specific cuisine or culture- like Vegetarian Express by Nava Atlas, or From Tapas to Meze by Joanne Weir.

But at this specific moment in time, there are 2 cookbooks that get my blood pumping. Two cookbooks that I can always count on to employ me with inspiration for breakfast, lunch or dinner. If someone told me I could only choose two of my cookbooks to keep, and the rest were leaving me. These are the two I would choose without a moment's hesitation. My first choice is Everyday Italian, by Giada De Laurentiis. And my second choice would be Fresh Every Day by Sara Foster.

Everyday Italian is just what it says it is. Italian cooking that you can do everyday.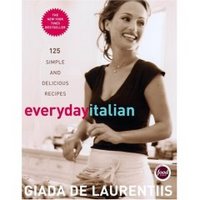 Easy, simple dishes that are full of flavor, and will undoubtably impress when called upon. By far my two favorites out of this book are the Chicken Parmesan and the Lemon Spaghetti, but we've enjoyed so many, that it is fair to say I like the entire cookbook. This is one that I've personally challenged myself to make every single recipe, and so far, I have yet to try one that we don't like. I really like Giada's approach to cooking. She encourages the home cook to make changes as necessary, and shares her tips for extracting the best flavor possible. Thanks to Giada, I have discovered a love for lemon zest and red pepper flakes. Two ingredients I never would have thought to add to dishes with reckless abandon, and I have grown to love them both. I almost always have a lemon or two on hand now, and I am so close to putting some red pepper flakes on my stove top in a little pinch pot- I use them that frequently now. And Giada's recipes are easy to follow. Really, anyone who can read can successfully make a recipe from Everyday Italian. If you don't have it, you're really missing out.

And my second choice for a favorite cookbook is by Sara Foster- of Foster's Market fame. Fresh Every Day
is a year round cooking compendium that encourages you to cook with fresh seasonal ingredients. How could you not love that right away? So many of the recipes provide seasonal variations, and with almost every single recipe, she says, use what you like best. But most importantly, the recipes from Fresh Every Day are delicious. Showstopping delicious. And they should be. Sara talks about this recipe and how it's a favorite among restaurant patrons, or that recipe, that was developed by her Mom, and is a family favorite. The personal touches scattered throughout the book are priceless. I almost feel like I've been transported to Sara's kitchen at times and we are cooking side by side. My two favorite recipes from this book are the Fall off The Bone Baby Back ribs and the Roasted Peas with Mushrooms and Tomatoes. It is thanks to this book that I have developed a deep-seeded love for roasted vegetables. I could eat a bowl of roasted vegetables every day. Which really embraces the point of this cookbook- Fresh Every Day. Every day. Again, easy to read and follow along, and the directions are simple and straightforward. I promise that if you don't have this cookbook and give it a try, you will find it to be one of your favorites as well.
Well, having shared all that, I feel that I really ought to spend some time curled up on the couch with these books in hand,and try to come up with some menu ideas. I've really sucked at menu planning pretty much since summer started, so maybe I should turn to my favorite foodies for inspiration. Plus it's threatening to rain out, I'm feeling a bit under the weather, a perfect day for a cookbook read-a-thon.